JULY 2020:
I recorded the song : 'Hard times come again no more'.
The song was written by Stephen Foster in 1854 (USA) as a protest against the poverty among the 'common' people.
In almost all countries the Corona measures are relaxed now, and we all hope that the 'hard times' lie behind us and don't come back again.
So I took the liberty of recording the song and posting it in Facebook…
Below is the link to the video…
https://www.youtube.com/watch?v=zewozTWfjpg
JUNE 2020:
The song "The Corona Shuffle", was inspired by situations 'in the street' where people carefully and nervously try to find ways (literally) to pass each other by at 1,5 meter (5 feet) distance. Many times dodging to the same side, stopping, then both moving to the other side, again at the same time. It often looks like people dancing around each other; the Corona Shuffle. Below is the link to the video… Just 'click' it…
https://www.youtube.com/watch?v=7E-3p2gM5y4
JULY 2019:
Like I reported in my post of last December, many different instruments in my 'Irish Folk' group. Only so far I did not see a banjo player.
Plenty guitars however, so I decided to get me a 'guitar banjo'.
Plays like a guitar, sounds more-or-less like a banjo.
I know that I can never replace a real banjo player,
but I can add some banjo sound to the music…
We'll find out at the next session (after summer holidays) …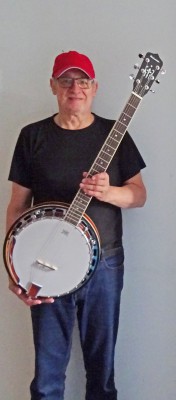 6-string 'Guitar' Banjo: Richwood RMB-606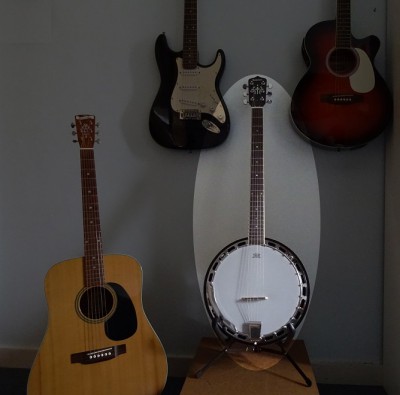 My string instruments
DECEMBER 2018:
Just before 2018 ended I was lucky to discover that there is 'Music Café' in my own home town ! And I was even luckier to discover that every month a so called
'Irish Session' takes place in the café.
Everyone who loves Irish Folk Music is welcome and anyone who likes to play along is welcome to do so !
So I went for the first time and man… what an experience…
To play along with all these different instruments; guitars, mandolines, fiddles, flutes, drums, accordeons and even a concertina ! They were al there…
And everyone in the circle had their turn to play or sing a number, where the others would join in… Or not, if you prefer to do it solo.
Looking forward to next time.
Me happy !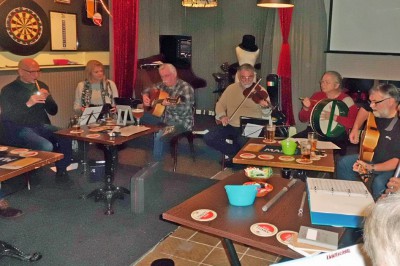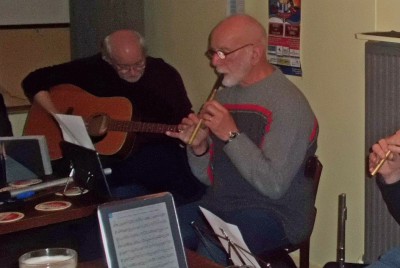 2018 and 2017 SO FAR…: Except for december 2018, nothing out of the ordinary:
I went to my 'regular' biker camping meetings in NL and Germany (see also 2015 & 2016) as well as a few other camping meetings and I played and sang by the fire at all of them.
Highlight of 2017 and 2018 was as usual the "Kraichgau treffen"; the 4 day Witsun musical biker camping weekend in south Germany.
MY LATEST SONG.
In February 2016 I recorded a new song I wrote called: The Bonfire Singer.
As the title says, it is about bonfire singers and what they do and why.
A link to the Youtube video of this song you find in the category: "Music Videos".
==================================================