NOTE:
The link above to my website is no longer valid.
Use the link below to go straight to the home page in English:
http://snellbos.nl/home/gb/index.html
———————————————————————————————–

JULY 2019:
Like I reported in my post of last December, many different instruments in my 'Irish Folk' group.
Only so far I did not see a banjo player.
Plenty guitars however, so I decided to get me a 'guitar banjo'.
Plays like a guitar, sounds more-or-less like a banjo.
I know that I can never replace a real banjo player,
but I can add some banjo sound to the music…
We'll find out at the next session (after summer holidays) …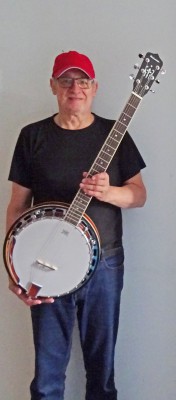 6-string 'Guitar' Banjo: Richwood RMB-606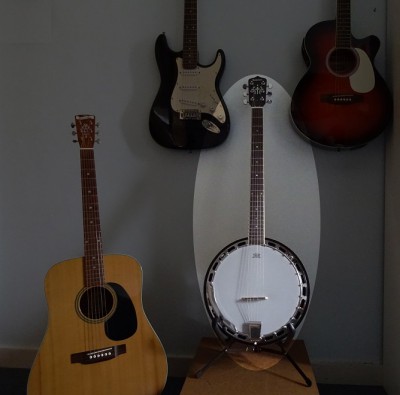 My string instruments
DECEMBER 2018:
Just before 2018 ended I was lucky to discover that there is 'Music Café' in my own home town ! And I was even luckier to discover that every month a so called
'Irish Session' takes place in the café.
Everyone who loves Irish Folk Music is welcome and anyone who likes to play along is welcome to do so !
So I went for the first time and man… what an experience…
To play along with all these different instruments; guitars, mandolines, fiddles, flutes, drums, accordeons and even a concertina ! They were al there…
And everyone in the circle had their turn to play or sing a number, where the others would join in… Or not, if you prefer to do it solo.
Looking forward to next time.
Me happy !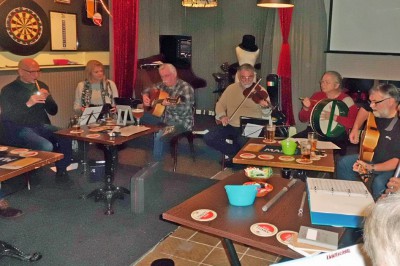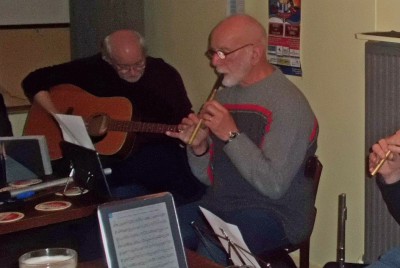 2018 and 2017 SO FAR…: Except for december 2018, nothing out of the ordinary:
I went to my 'regular' biker camping meetings in NL and Germany (see also 2015 & 2016) as well as a few other camping meetings and I played and sang by the fire at all of them.
Highlight of 2017 and 2018 was as usual the "Kraichgau treffen"; the 4 day Witsun musical biker camping weekend in south Germany.
MY LATEST SONG.
In February 2016 I recorded a new song I wrote called: The Bonfire Singer.
As the title says, it is about bonfire singers and what they do and why.
A link to the Youtube video of this song you find in the category: "Music Videos".
==================================================